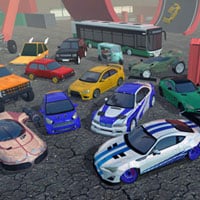 Car Simulator Arena is a fun and exciting driving game in which you can explore a vast landscape in a series of awesome sports cars. The map is packed full of different obstacles and objects such as ramps, roads, mountains and platforms. You can drive wherever you want, and discover every area of the map. The choice is yours and adventure is waiting!
Don't worry about damaging your car – you can find various repair stations on the map that allow you to instantly repair your vehicle. Practice drifting around epic corners. Drag race on long straights to see what top speed you can reach – do whatever you please! Don't forget to try out the futuristic flying car too and take to the skies! Have fun today in this awesome simulator!
Car Simulator Arena is a free online driving game on Round Games.