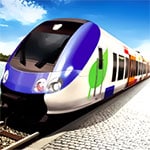 Train Simulator 2019 is a driving game about trains. Find out how challenging it could be to drive a huge train through the middle of the city with this awesome game. Control one of the world's most popular transport means on lots of different levels. And get to the end of every path without causing any accidents. In Train Simulator 2019 Game, set the acceleration and the brake to get a nice speed. Use the horn on specific spots to earn some extra coins and switch the railroad whenever you need to get to your destination. Earn enough money to buy better trains. Don't stop until you have passed all stages of this cool game!
Train Simulator 2019 is a cool simulation game in which you take on the job of a train conductor. You must successfully drive your train along the tracks to the designated end destination. As you drive, you have to change the acceleration and also look out for objects that may have fallen onto the track. You must also look out for signals and danger signs. If you fail or crash, you need to restart the level from scratch. So can you arrive at the station in one piece in Train Simulator 2019? Enjoy and have fun.
Also make sure to check out Simulator Taxi Driver 2019 Game and Slalom Ski Simulator Game. You may enjoy playing them.