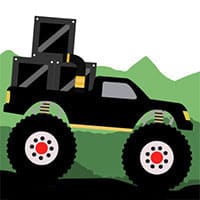 Monster Truck Forest Delivery is a side-scrolling driving game where you take control of a big-wheeled monster truck and attempt to deliver various cargo and packages to the end of the forest track. The goal of the game is to try to complete each level as fast as you can without losing the crates in the back of the truck. If you can deliver all packages quickly, you will get the 3-star level rank! Will you be able to get the 3-star rank on all 20+ levels?
There is nothing more bad than delivering cargo with a cool monster truck! Deliver the packages safe and fast in Monster Truck: Forest Delivery! Delivery those precious crates filled with expensive stuff at the end of the forest road!
Monster Truck Forest Delivery is a free online driving game on Round Games.