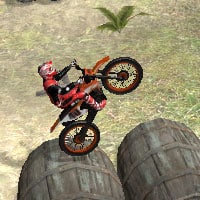 Moto Trials Beach is a video game based on the sports motocross. Just like a motocross bike rider, you will drive and control your motorcycle in a bumpy obstacle course. Try your best to ride your motorcycle smoothly on a trail that has full of ramps, hills, and other objects that will make your ride awesome. Show your amazing stunts and aerial acrobatics skills while jumping your motocross bike into the air and landing safely. Avoid crashing your motocross bike and do everything to keep your wheels on track to continue playing. Keep riding to find a safe point so that you won't start all over again or better yet finish the game without crashing.
Ride your off-road motorcycle on the coast of the beach in Moto Trials Beach! Exhibit your creativity in driving a motorcycle sport.
Moto Trials Beach is a free online driving game on Round Games.