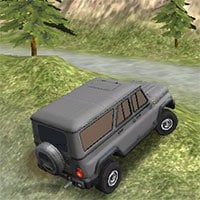 Russian Extreme Offroad is a challenging off-road driving game where you take control of a 4×4 jeep. The game features intuitive controls, beautiful 3D graphics, and smooth game play. The game features 2 game modes: Free Ride, and Challenges. In Free Ride, you get to roam around the landscape freely where you can find other cars and unlock it. Challenges are split between four difficulty levels and your goal in each level is to drive your way to the finish line, without hitting the traffic cones. Try to unlock all 11 cars and have fun!
Drive your 4×4 in an open Russian landscape and put your driving skills to the test by completing dozens of challenges in Russian Extreme Offroad! Drive freely and explore the land with your car!
Russian Extreme Offroad is a free online driving game on Round Games.