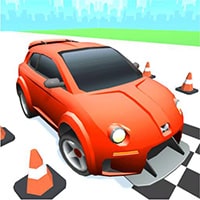 Are you ready to experience a unique car driving gameplay? Start with your SUV 3D Car and unlock new vehicles as you progress through Toon Drive 3D Game, playing different and unique levels. Drive your favourite vehicles, and navigate your way around new challenging environments. We welcome all racing car game fans to experience this new driving game! Become a pro driver and master your parking skills in Toon Drive 3D Game! Use your extreme car stunt ability to navigate your way through a virtual multi story environment. Get the ultimate driving school experience in Toon Drive 3D! Learn to park with a manual gear shift. Make sure not to crash or burnout. So drive safely especially when you are driving offroad.
Fasten your seat belt and unleash your inner racer by taking control of extreme vehicles in this parking mania. Challenge yourself with the rooftop levels or have fun in amusing virtual environments. Parking from one level to another has never been so much fun! Toon Drive 3D Game features a wide selection of cars. So get ready to show your driving skills. Toon Drive 3D Game Features: Modern hyper casual controls: Easy one finger control for a new and unique experience. Addictive controls: Hold to drive, release to brake. Portrait mode: For single handed gameplay. Vehicles include: Truck, Jeep, SUV, off-road vehicles, hyper cars, and an exclusive sports car.
Also make sure to check Cartoon Racers: North Pole Game, you may enjoy playing it.