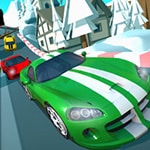 Cartoon Racers: North Pole is one of the 3D winter racing game that takes you through the frozen roads of the North Pole. If your best friend and you are looking for some adrenaline-pumping rides for 2 player games with cars. Then Cartoon Racers: North Pole is the perfect game for you! Start playing the racing game and enjoy an epic online game against other skilled drivers. That takes you in the most difficult and frozen tracks. Where you must be the faster driver to reach the finish line in the first position.
If you play Cartoon Racers: North Pole Game in a single-player. Just use the arrow keys to control and balance the cars as you jump, slide and accelerate the car and engines to the maximum. Press the "H" key to reset the car as fast as possible if you fall off the racing track to get back into the race and don't lose your position. If you play Cartoon Racers: North Pole with your friends. Make sure you first select each what car you want to play within the 2 players split-screen mode where the cars are unblocked. Player 2 controls for driving are S, D, E, F, and the "C" keys to reset the car position. Look and pick what your heart desires with more than 14 different car-trucks available in the garage.
As you race few levels in Cartoon Racers: North Pole Game, you will earn money:
Then you can spend that money on best-performing cars that are lighter and faster. As you race the other four Ai drivers try to stay away from them at the start. And only try to overtake them in curves when they slow down. And if they are too professional for you meaning you can overcome them. You can modify the difficulty of the Cartoon Racers: North Pole Game mode from low to medium and high. Also make sure you adjust the quality of the game to have the best experience start from low while you modified the graphics on medium. And even go as high as possible to the highest detailed 3D graphics. But this depends on your computer performance. Have fun experimenting while driving with many types of cartoon cars. Like Ferrari, Lamborghini, McLaren, Lotus, Chevrolet Corvet, Porche GT, and more.
Also make sure to check Toon Drive 3D Game, you may enjoy playing it.