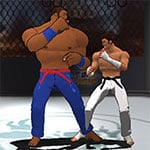 Art of Free Fight is a competitive cage fighting game. Where you must choose a player and win against all others in an intensive melee fist to fist combat. The game features single player tournament mode. And a multiplayer versus mode where 2 players can play the game on one computer. Defeat your opponent on however ways you find easy! Be careful as the opponent's AI are good with combo attacks and aerial attacks that will keep you at the edge of your seat!
Take cover at the right moment and give your opponents the beatings they deserve! Get ready for some epic fast-paced fist to fist combat and battle opponents inside a small cage in this awesome brawler game – Art of Free Fight! So try to make it to the final round of the tournament and claim the champion title for yourself. Enjoy and have fun in playing Art of Free Fight Game. Good luck.
Also make sure to check out Brawls.io Game, you may enjoy playing it.