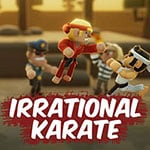 Irrational Karate is a fun and intense fighting game that requires skill and quick reactions. This is a 1on1 karate game and you must utilize a wide array of kicks, punches and attacks to defeat your opponent. Use the arrow keys to control the movement of your character. And use the S, A and E keys to perform different types of attacks.
Take time to learn the different combinations and work on timing your attacks perfectly. You must also dodge incoming attacks from your opponents. And try to keep your momentum going in order to sustain your barrage of punches and kicks. Can you become a karate master and defeat all your enemies in the arena in Irrational Karate Game?
Also make sure to check out Rage Game, Sands of the Coliseum, Bullies Game and Iron Snout Game. We picked up these games from our fighting games.