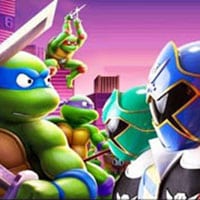 Ultimate Hero Clash 2: The ultimate TMNT Vs Power Rangers fighting game. In which you can fight as either the Teenage Mutant Ninja Turtles or the Power Rangers! There will be some other choices to make before the real action begins. The main objective is to fight against the enemy to defeat him or her. All the enemies that you will encounter are fierce fighters and they will not be easy to beat. The graphics and gameplay are reminiscent of Street Fighter. In Ultimate Hero Clash 2: Pick from your favorite characters such as Donatello and the Red Power Ranger and try to unleash devastation on your opponent. You must think fast and use a combination of awesome moves to defeat your foe. Don't forget to unleash your special skill once the power bar is full!
If you're accustomed to the first part of this game now is the time to get to an improved version. Get ready to face a tough 3D battle with characters from your favorite series. Which side are you part of? Choose the TMNT or the brave Power Rangers and get ready to perform all sorts of blows and fighting moves to your opponents in order to leave them completely K.O. So enjoy and have fun in playing Ultimate Hero Clash 2 Game at Round Games. Good luck.
Ultimate Hero Clash 2 Game Features:
A cool 3D fighting game.
Many characters from TMNT and Power Rangers to use.
Four game modes to use.
Seven cool locations.
Also make sure to check Rise of the TMNT: Bumper Bros Game, you may enjoy playing it.