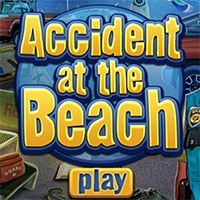 Accident at the Beach Game: The police officers Anna and David, together with their team, get to one of the most famous beaches in their country. No matter how amazing this place is, they are here for other things, not for vacation and fun. And maybe this beach is the most beautiful in the country but that doesn't mean that accidents don't happen there. The safety on the beaches is something completely different. Actually, Anna, David, and their team are here because the safety on the beach was seriously threatened.
Namely in Accident at the Beach Game, a young girl almost lost her life in an accident that happened this morning. The police team is here to discover what is the reason why the rescue teams did not react in time. They believe that there was much to be done to avoid the accident, but that didn't happen. Let's visit the beach together with our characters and try to solve this case. The team of professionals is experienced, but as it happens sometimes, an opinion from outside can be the key to solving something. You can play Accident at the Beach game on all devices. So enjoy and have fun.
Also make sure to check Sign of Crime Game, you may enjoy playing it.