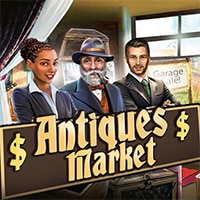 Antiques Market Game: Are you ready for the biggest sale in the city? People clean out their attics, garages and basements to create the most spectacular garage sale around! Vast range of antiques and collectables, including jewelry, ceramics, books, furniture, pictures, paintings, metal work, rustic memorabilia, toys, trains and tools. So if you prefer to hunt for handicrafts, Antiques Market Game will be a perfect fit for you. Kevin, Brian and Amanda have a passion for antiques. Buying an antique to take home is the thing they love the most. This common interest is what brought them together in a first place. They are regular visitors to garage sales in search of old valuable items. For the past two years we've been pouring our hearts and souls into the flea and antiques markets that can unearth all sorts of rarities.
They have been waiting for several months now on a long-awaited garage sale which is happening today in Antiques Market Game. They need help from our player in order to help them find all the objects that they want to buy. If you follow all our tips, you might be able to find all them hidden object on time. And learn more about high-quality items from across many centuries. You can play Antiques Market Game on all devices. So enjoy and have fun.
Also make sure to check Vintage Goods Game, you may enjoy playing it.