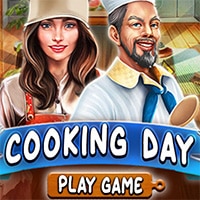 Cooking Day Game: Emily loves cooking. She cooks wonderful recipes for her family and everyone loves her food. However, she has decided that she likes to cook like a real professional. And that's why she started taking cooking lessons from the famous cooker Thomas. She likes to learn the secrets of the cooking profession and become even better at cooking. Our cooker Emily has been attending a cooking course for several months. Her mentor, the cooker Thomas has promised her that he will come to her home today.
He promised that he will help her prepare one special recipe in Cooking Day Game. So she could surprise the whole family. It will be something really special, and if she works with Thomas's assistance, the results will be incredible. Now let's help Emily prepare for the visit. But also to prepare herself for the whole evening in Cooking Day Game. We have to say that she is a little bit worried about how it will turn out, but also she is in a panic because he will have the greatest cooker in her home. Let's help Emily prepare the house and her kitchen for the visit of the best cooker. You can play Cooking Day game on all devices. So enjoy and have fun.
Also make sure to check Secret Sauce Game and Emily's Bakery Game. You may enjoy playing them.