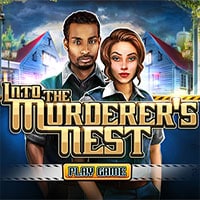 Into the Murderer's Nest Game: First of all, meet your team. The team is leaded by Julia and Melvin who are two detectives. They are partners that have solved numerous cases together, always being rather precise in their moves and actions. Today they are in the house that belongs to one of the richest criminals in the state. According to accurate information, they discover that in this house is the hidden Oscar. He is a serial killer and the police are looking for him for a few years.
Julia and Melvin are working together with their team that is consisted on many experienced professionals. This case involves only the best policemen because it is about a rather serious criminal and they like to solve this case once for all. You will play this game as a member of their team. You will work parallel with them, looking for evidences and traces that will help solve the case. And those people are experienced but since this is going to be your first task, make sure that you show in your best. So enjoy and have fun in playing Into the Murderer's Nest Game.
Also make sure to check out Murder To Kill or Not to Kill Game and Incognito Game. You may enjoy playing them.