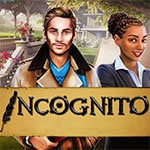 Incognito Game: Karen, Kimberly and Marc are detectives who while reading the books of famous writer Steven Wilson come to new fact about the mayor's attack that has happened exactly hundred years ago and which hasn't being solved. This murder is still a great mystery. Karen, Kimberly and Marc believe that the writer knew exactly who committed the murder. And that the murderer has confessed him.
The idea is that the writer actually uses his story as inspiration about his books. Now in Incognito Game, it is about time for the original transcripts of the talk to be found among the writer and the killer. Writers very often are unusual people who look for inspiration everywhere. They prepare to even do bizarre things to get to a new story and new inspiration.
Because they live from stories and their readers. Imagine you are a writer who has written more stories but you find yourself in a bad position and you are out of inspiration for longer time. That is not a convenient situation at all. Now, it is up to you to help these detectives solve the great mystery. Enjoy and have fun in playing Incognito Game.
Also make sure to check out The Lost Outlander Game, you may enjoy playing it.