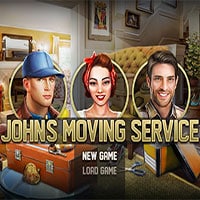 John's Moving Service Game: It's no secret that moving an entire household is stressful. You've packed up your home prior to moving – all pieces are wrapped and packed in boxes. As if this wasn't stressful enough now you have to worry that they arrive damage-free at the end of your move. Hiring a moving company can be scary. How do you know they won't break your stuff, charge more than agreed, or simply load your stuff into a truck and disappear? Through John's Moving Service Game: This is the Adams family big moving day. Fortunately, they avoided these nightmare scenarios after a recommendation from their friends. They have hired John who is the owner of one of the best moving companies in the city. He started small and has built a reputation because he always comes prepared to get the job done.
That's what's today John arrives in the Adams's house with his two assistants Lauren and Harold. The Adams are moving from their old home into a new one so John's and his assistants task is to prepare and pack all the items from their house. But, they need a help from our player to finish right on time. Will you step in to help John remain his good reputation? You can play John's Moving Service game on all devices. So enjoy and have fun.
Also make sure to check New Beginning Game, you may enjoy playing it.