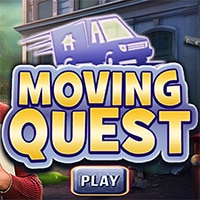 Moving Quest Game: Gloria and Harold have been married for a while. After living in one place for some time, the young spouses decide that it is time to leave their old house because that house no longer meets their family's needs anymore. Gloria and Harold decide to move to a new house they recently bought. It is located in the new suburb of their city. They are happy with the choice and can't wait to move to their new nest for life. However, the young spouses are aware that before they can continue their lives in the new house, a serious challenge awaits them – moving from one home to another.
This is a really difficult and responsible job, when it comes to packing, transportation of household goods, and moving into the new house itself. However, they also know that this is a small obstacle that comes naturally. And it's worth it to get over it and enjoy the new home. Today in Moving Quest Game is moving day, so Gloria and Harold called on their friends to help them. Let's see how this day goes and help as much as we can. You can play Moving Quest game on all devices. So enjoy and have fun.
Also make sure to check Market Quest Game, you may enjoy playing it.