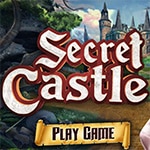 Secret Castle Game: Well, keeping a secret from the children might be usual thing when the kids are still too young and finding out the truth might do them a harm. It is not always good children to know where are all the chocolates. Or to know that mom and dad still stay wake hours after they went to sleep…but when kids grow up, the parents usually talk with them about everything. Or at least it should be like that. However in this game, princess Karen and her brother, the prince Mark, suddenly find out that that their own father, the king Frank, had a castle that has been kept as a secret for a long time.
All those years they didn't know anything about the castle so they were very surprised when they discovered it. Karen and Mark wonder why would their father keep a secret from them and didn't told then about the place. Now they come to visit the castle and find out all the secrets that hidden there. We could also see what is the secret of the castle and what does it hide. Let's take a look together with princess Karen and prince Mark. You can play Secret Castle game on all devices. So enjoy and have fun.
Also make sure to check Winter Castle Game and Deserted Castle Game. You may enjoy playing them.