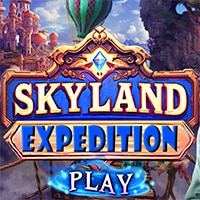 Skyland Expedition Game: The world of fantasy offers countless possibilities. We can imagine a world that does not exist anywhere, visit places that no one has heard of, and are so unique that some people do not even have the power to imagine them, all with the help of our heads and free thought. And sometimes, if we engage in something unusual, we push our limits, push the limits of the conventional, and our life is like a fantasy. In Skyland Expedition Game: Marie is a girl who constantly lives on the border between reality and fantasy. Why? Because she does something that may be unimaginable to some people.
Marie has her hot air balloon and travels with it very often. Today, Marie quite accidentally discovered a fantasyland high in the sky. Like in a fairy tale, with beautiful castles and many interesting objects. Marie stands before this breathtaking view and can't wait to explore it. Let's see in Skyland Expedition Game what's hiding high in the clouds and try to find out if what Marie sees is true or just a result of her imagination. You can play Skyland Expedition Game on all devices. So enjoy and have fun.
Also make sure to check Missing Expedition Game, you may enjoy playing it.