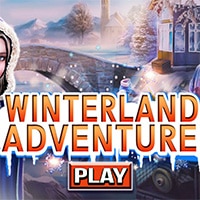 Winterland Adventure Game: Joan is on the road. She will be traveling for a while, and the road she takes is not easy at all. She goes to visit her parents, but before she gets there, she needs to pass through the Winterland. And you may imagine how hard it is to travel through this land. It is always cold, and there is a lot of snow, which makes the trip very hard. However, that is the only way to her parents' house. So it's something that has to be done, that is for sure. Besides this Winterland Adventure, the whole route is very long and hard, so Joan has to take a rest somewhere.
She finds a shelter that seems to be a perfect place to spend the night before she continues her trip and get's to the final point. Now in Winterland Adventure Game, let's take a look at the whole situation. And try to find a way how can we help Joan finish her trip safely. Even though it all might pass as smoothly as wanted, she will surely need our company because it is always better to go on such a trip with someone, not alone, since you can never be completely sure that nothing can come on your way. You can play Winterland Adventure game on all devices. So enjoy and have fun.
Also make sure to check Portal To Dreamland Game, you may enjoy playing it.