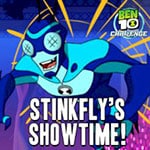 Challenge yourself by launching Stinkfly into 30 amazing levels in Ben 10: Stinkyfly Showtime Game and see how much cash you can collect. The peculiar Stinkfly, one of Ben 10's aliens, wants to be the brand new cannonball Stinkyfly Showtime. He feels the need to fly and show us how rich he can get with his superpowers. Throw him high and far with the most powerful cannon. So he gets to collect as many money as he wants.
How to play Ben 10: Stinkyfly Showtime Game:
For aiming, you will need to left click on the cannon. Then drag and point it in the direction that you want Stinkfly to follow. By pulling the cannon further to the left, you will increase Stinkfly's speed. But be careful, because if you fly way too fast, you might miss some of the tanks of money that you need to catch. Stinkyfly Showtime Game has 30 levels. In each one, the difficulty will increase, as well as the amount of money that you will have to collect. The tanks of cash will get harder to catch as you advance in your adventure. But continue with your excitement, and you will be rewarded with the exact amount that you deserve.
Keep on trying to make the sneaky little Stinkfly richer than ever in Stinkyfly Showtime Game. Collect the sum of dollars listed at the beginning of every level. If you do not manage to do this. You will have to play the level until you collect all the money that Stinkfly needs. At the beginning of every level in Stinkyfly Showtime Game, you will be told about the throws that you have left. If you exceed your strikes, you will start again. This time we know you can make it. So enjoy and have fun in playing Ben 10: Stinkyfly Showtime Game.
Also make sure to check out Ben 10: Omnitrix Glitch Game and Ben 10 Vilgax Takedown Game. You may enjoy playing them.