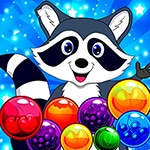 You will have a lot of fun while playing Raccoon Bubble Shooter Game. Your main mission blow up bubbles and collect as many points as you can. How many bubbles will you blow in a shot? Raccoon Bubble Shooter is the most enticing and fun game in which you will help save the little raccoons. Mom's raccoon had little kids, they always loved to play various interesting games and have fun. But it so happened that one fine sunny day came bubbles that captured all the kids. Now they cannot get out of there in any way, because the mother cannot cope without you, she is really waiting for your help. To help mom Raccoon free her babies, you need to work very well, carefully inspecting the playing field. Rather, start playing, because these little and cute raccoons have already been waiting for you!
The goal of Raccoon Bubble Shooter Game is to help mom raccoon save her children from bubble invaders:
This game includes many game features and various obstacles. You must complete levels using good manual dexterity and reaction. To free the raccoon kids, you need to shoot bubbles of the same color. Only in such a way as to remove at least three bubbles. In Raccoon Bubble Shooter Game you will find as many as 100 exciting levels in which you will have a good time in your free time. You won't even notice how it begins to disappear. Opening every new levels you will receive stars.
Complete Raccoon Bubble Shooter Game by removing all the bubbles correctly to earn a three-star rating. In the upper right corner of the game, you will see how many children you have to save. You will start playing out of five lives, also earning new ones. In this game you will have boosters, which you can use at any difficult moment in the game by purchasing them for the coins you have earned. It will be: a bubble with different colors, an arrow that gives a long line of sight. And bubbles that indicate the next color bubble. So have a good and fun pastime!
Also make sure to check out Bubble Shooter Bunny Game, you may enjoy playing it.