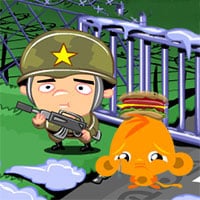 Monkey Happy Army Base is another entry for the Monkey Go Happy series, this time featuring a military army base as the setting. Help our cute and sad little monkey explore the military army base to find and collect all 16 bullets to make him happy again. Look for clues, solve puzzles, and tap on every curio on the screen. Use items on specific spots to complete puzzles, and find more bullets.
Our cute little monkey friend is on a military base! Help him find all of his bullets back to make him happy again in Monkey Happy Army Base! Interact with the world, tap objects to set them aside, and find all the bullets!
Monkey Happy Army Base is a free online puzzle game on Round Games.