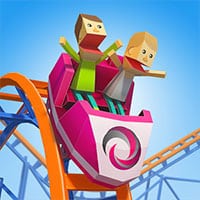 Rollercoaster Creator Express is a puzzle strategy roller coaster simulation game where your goal in each level is to collect a set amount of stars and let the visitors reach the other end of the track. Use various special tracks like loop-the-loops, corkscrew, and so much more. You can even splash through the waters and make your visitors happy!
Make some awesome roller coaster rides that are fun and safe for the visitors! Collect all the stars in each of the levels and earn some points in Rollercoaster Creator! Build corkscrews and 180 curves as you make the visitors happy and thrilled.
Rollercoaster Creator Express is a free online puzzle game on Round Games.