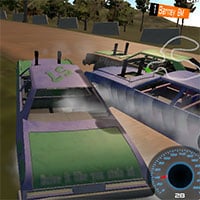 Extreme Racer is a cool 3D racing game with beautiful graphics and fast intuitive controls. in this game, you will take control of one of the many classic cars and you must cross and complete different tracks including coastal areas, highways, and mountain tracks. Compete with other racers so you can finish first place and prove to the world that you are the best classic car driver there is. Finish in first place to unlock new levels and more content.
Drive a classic car and run through mountains, coast areas, valleys, and highways! Be the first to cross the finish line in Extreme Racer! Use the equipped nitro booster to gain a lead or close the distance.
Extreme Racer is a free online racing game on Round Games.