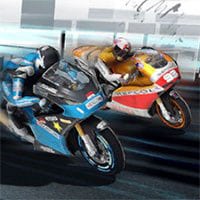 SuperMoto GT is a 3D motor racing game with beautiful 3D graphics and smooth gameplay. In this game, you must finish each track and race with at least the 3rd position to unlock new locations. The game also features multiplayer mode so you can play with your friend. Try to win the championship cup in single player mode or practice all day long in quick race! Choose your motorcycle and stay on the road to gain your full speed! Have fun!
Ride your awesome motorbike and put on your helmet! Rev your engine and start competing for the first place in SuperMoto GT! Grab coins, use your nitro, and avoid the stop sign in this awesome racing game!
SuperMoto GT is a free online racing game on Round Games.