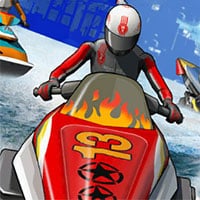 Water Scooter Mania. Forget about speed boats or hovercraft, why not have a go at Water Scooter racing instead! This tacing game my appear easy on the surface, but you must take the corner carefully, break at the right time and avoid the large waves. Choose from a variety of different scooter models and tracks.
During each race, there are several exciting jumps and also a nitro tube power-up that provides a speed boost. You can play against AI opponents in single player mode, or you can test your skills against other online players! Do you feel like conquering the waves? If so, check out Water Scooter Mania today!
Water Scooter Mania is a free online racing game on Round Games.