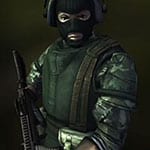 Kill your enemies on realistic 3D battlegrounds! Bullet Force Multiplayer lets you play in Conquest, Gun Game, and Team Death match modes. You can compete against others on the Urban, Prison, Ruins, and Woods maps. Customize your Alpha, Bravo, and Charlie load-outs with different rifles, pistols, and grenades! Bullet Force Multiplayer Game brings you a great opportunity to fight in three various difficulty levels in five different environments including a winter camp.
Bullet Force is great, and completely native game. Judge for yourself. Immediately afterwards you will discover that you are at a landscape fully occupied by enemy soldiers. They already waiting for you there. Your goal in Bullet Force Multiplayer is to go through the landscape and your mission ends when all soldiers are dead. Except your own, of course. Hit all of them will not easy, you will not fight only against pawns, but also against snipers. Some enemies are moreover cowardly and will hide before you. You will have to find these soldiers. Can you manage that? Whether you are an expert, or a rookie, click the button and start play Bullet Force Multiplayer Game.
Also make sure to check out Bullet Force Game and Bullet Party Game. You may enjoy playing them.