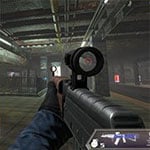 Met Rage game, the awesome shooting game underground and is one of our multiplayer first-person shooter games. This awesome action Met Rage Game has an open world and allows players to delve into an underground subway system and try to rack up the kills. The underground is slightly different as it has a post-apocalyptic design – it looks like the end of the world. Martian Games have created a superb game set – you really feel the urgency of the situation as you explore the abandoned subway hunting for prey. Trains still rattle along the lines periodically – watch out for them otherwise you could end up squished on the lines.
Met Rage Game has intense first-person shooter gameplay:
It is the best aspect of the game – you must have skill and great reflexes. Players must move quickly and use their weapons effectively to gain as many kills as possible. There is also a superb "capture the flag" game mode in Met Rage Game. In this Mad Max style world, your team must try to capture the flag in the subway and try to return it to your own base. Each time you successfully do this, your team earn points. The winner is the team with the highest point score once the timer has run down.
It is possible to play games with your friends and work as a team to try and win the match. Alternatively, you may simply want to try and score as many kills as possible to create fun games. When choosing a player character in Met Rage Game, ensure to pick a decent gun load-out to help you get more kills. When playing, gamers can complete side missions and use a myriad of awesome weapons. Take up arms and control guns such as a machine gun, pistol, and even deadly rocket launchers. As you play you will become proficient in many different weapons – you will become an elite assassin in the subway. Enjoy and have fun in playing Met Rage Game.
Also make sure to check out Bullet Fury 2 Game, you may enjoy playing it.