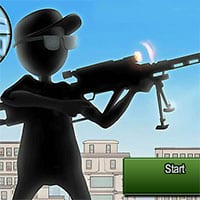 Sniper Shooter 2 is a game sequel to the first Sniper Shooter game. However, unlike the first one, this game focuses more on timing the shots and identifying the target, rather than calculating the trajectory of your shot. The game lacks the depth that is present in the first game, which is rather disappointing. Regardless, this is still a nice game to play. Play as a hired assassin and snipe your targets! Complete all 22 missions as quickly and as efficient as possible to maintain your reputation.
Play as a master sniper and complete 22 sniper missions! Eliminate your target with only a few seconds window in Sniper Shooter 2! Identify and eliminate your target in just seconds and have fun!
Sniper Shooter 2 is a free online shooting game on Round Games.