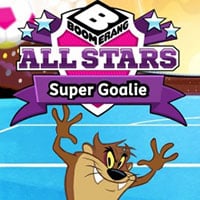 Boomerang All Stars Super goalie. Block that shot! In Super Goalie you have to block a barrage of footballs as they get shot out of cannons. Don't let any of them get past you, and keep your cool when the footballs really start flying! It's time to find out which of the heroes will get the title of super goalkeeper in the game Boomerang All-Stars Super goalie.
The teams have prepared and are looking forward to whom you choose. Surely it is known that the one on whom the choice falls and will be the winner. Because it is not by chance that you will be controlled by them. Think carefully who deserves this honor and go to the football field. You will be surprised, in Boomerang, there is no other way. Balls will fly out of a special cannon, and your task is to catch them by clicking on them with your mouse.
Make sure to check out Boomerang Sports Game. You may enjoy playing it.