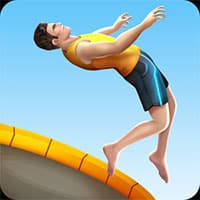 Flip Master. Master your backyard trampoline with amazing stunts. Like Frontflips, Backflips, Gainers, Layouts, Jumps and Bounces on your backyard, gym or circus trampolines and train to be the Master of Trampoline! With a custom physics engine and animated Ragdoll Physics. Flip Master is the most dynamic and entertaining Trampoline experience ever created! Defy the laws of physics and prove yourself worthy!
You gain points for every successful jump you land and every flip you complete. Be sure to land properly otherwise your turn will be over! With the points you collect, you can purchase new characters, and also take spins on the wheel of fortune to unlock new areas to play in such as the gym and circus. The graphics are fantastic and the combos you can create look beautiful! Can you become a trampoline expert?
Flip Master is a free online sports game on Round Games.