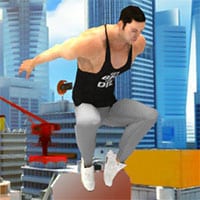 Free Running 3 is a sports simulator video game based on the activity/ sports that involve moving rapidly through an area or environment. Overcoming obstacles by running, jumping, and climbing – parkour. In this game, you will control a muscular and fit guy wearing a black tank top, gray pants, and white shoes. Finish all the obstacle course before the given time runs out. Collect all the dragon logos to add up to your score and the power-ups that will boost you. Complete all the 10 levels that are available in this game.
Take a tour in the highest buildings of the city and perform different parkour stunts in Free Running 3 Game. Feel the thrill as you try to run through different obstacles that will test your parkour skills. So enjoy and have fun in playing this free online game.
Also make sure to check out Free Running 2 Game, you may enjoy playing it.