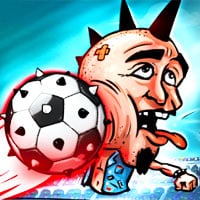 Puppet Football Fighters is an awesome soccer game with a twist! This game allows you to control puppets in intense 1-on-1 soccer action. Instead of scoring goals, your main aim is to eliminate your opponent by smashing them with high power soccer kicks!
Aim your kicks carefully and use the correct amount of power to angle your shots properly. As you do damage your power bar builds up and you can eventually unleash a devastating special attack that is unique to each character. As you progress you can collect new players who have different abilities and stronger stats. Can you get on the Puppet Soccer leaderboard? Enjoy and have fun in playing Puppet Football Fighters Game.
Also make sure to check out Puppet Soccer Champions Game, you may enjoy playing it.