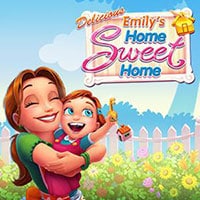 Emily's Home Sweet Home. Discover this new and exciting episode of the Delicious series!
Emily and Patrick are thrilled by the warm welcome they initially received from their neighbours. However, it wasn't long before some of these 'friendly neighbours' started to show their true colours and revealed a whole different side of the local community.
Now Emily and Patrick find themselves in a difficult situation. The two young parents must now work very hard to prevent the Health Inspection from condemning their dream home!
Do you want to know how this story will ends for Emily and her husband and child? Find out now by playing this fun Time Management game! Help the O'Malleys fix up their dream house on time before they lose it to the Health Inspection! This game can be played on all devices.
Emily's Home Sweet Home is a free online time management game on Round Games.