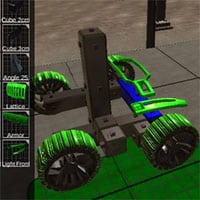 Make a Car Simulator is a LEGO type build your own vehicle game. The game features 3 locations in which you can set your imagination free: Mars, a massive plain good for testing buggies and other land vehicles, Mountains, with uneven terrain and lots of secrets hidden, and lastly, the testing room where you can just build and build to your heart's desire. Will you be able to make a good ATV? Or is your heart set on making the fastest 4WD?
Create the car of your dreams or make a unique experimental vehicle! Let your imagination run wild in this fun simulation game – Make a Car Simulator! Test drive your vehicle and try to make the best All-Terrain vehicle!
Make a Car Simulator is a free online time management game on Round Games.