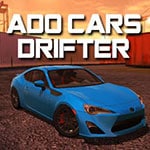 Ado Cars Drifter is an awesome car driving game in which you get to practice your drifting skills in some amazing 3D sports cars. You can jump into your sports car and explore a vast open 3D world. With many winding roads, buildings and skyscrapers – driver wherever you want and explore to your hearts content. There are plenty of blond sweeping corners so be sure to show off you epic drifting skills here!
This game is a huge amount of fun, the controls are straightforward and the cars handle perfectly. It will feel like you are driving a real sports car! As you earn points for your score, you can unlock new maps to drive on and some cool new cars! So enjoy and have fun in playing Ado Cars Drifter Game.
Also make sure to check out Ado Cars Drifter 2, you may enjoy playing it.