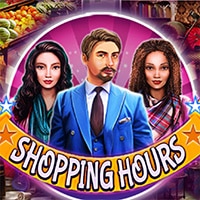 Shopping Hours Game: All of us need change once in a while. We need changes in our homes, changes in our look, maybe change of the place where we live… Those changes bring new energy and often make us feel refreshed too, ready for new challenges and new beginnings. Now in Shopping Hours Game: Meet Riley, Grace and Liam. The three of them are roommates who wanted to freshen up the look of their apartment. They live for some time in that apartment and they love it. But now they feel that it is time to make some changes in the place, to make it even better place to stay.
Also, they would like to buy something nice for themselves too and feel refreshed, something like a present to themselves. All of them in Shopping Hours Game have a great taste for antiques. And they want to get the best deals they can. They plan to visit few places, looking for something that will fit best in their home. We could also take a walk with them and see what can be found in those shops but also we could help them make the perfect choices. Let's enjoy the shopping hours Game.
Also make sure to check Shopping and Fun Game. You may enjoy playing it.