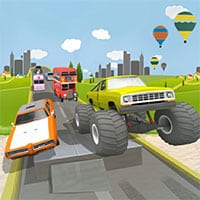 Uphill Climb Racing is a beautiful side-scrolling truck driving and racing game where your goal is to race against other competitors and be the first to cross the finish line. Speed up on ramps and make the best flips to earn some bonus points and boost. Collect coins along the way and use it to purchase new vehicles or upgrade your existing one. Pump up the speed by using the adrenaline nitro-boosters at the right moment. Will you be able to handle the challenge?
Buckle up your seatbelts and prepare to race against other vehicles on thirty intense tracks! Collect gold and try not to flip over in Uphill Climb Racing! Overcome steep hills and unforgiving terrain as you race against other drivers.
Uphill Climb Racing is a free online racing game on Round Games.